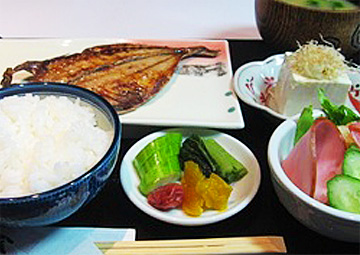 Japanese set menu breakfast! Cooking fresh fish from Tsukiji every morning.
6 plates, steamed rice re-fill available,
Hot baked fish. Simple but delicious.
A cup of coffee after meal. Please make the reservation by 24 o'clock of the day before the breakfast at the front desk.
*Breakfast time:7:00~9:00
Last order:8:30
Breakfast hall:First floor (Restaurant)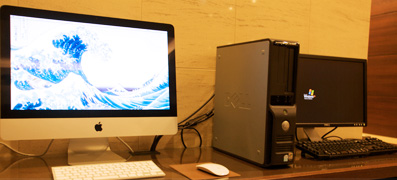 Free desk-top for guests-use
at the 1st floor
Ones windows and the other is Mac
Free internet use for 24 hours20 yen/paper to print (ask the staff)

1) For the use
Due to the hotel facility, guests' computer or software, you may not be able to use the internet.
For some rooms, your machine may not be able to access to Wi-Fi due to the bad signals.
Ask for the ID and password for Wi-Fi at the front desk.
We do not lend lap-tops or tablet PC* There are two free desk-tops on the 1st floor.(Windows / Macintosh)
We are lending a LAN-cable at the front desk for 500 yen as the deposit money.
2) Security Issue
Please know that the computers downstairs are for every guests who are staying at this hotel.
Thus everyone can freely use the computers.
So there is no security software to protect your information so please be careful.
Moreover, we do not take any liability or responsibility regarding on internet secuirty issue whatsoever.

*Paid websites or games can not be used.
*Access to Internet (internet use) is free.


News paper

Laundry (charged)

Vending machine

Telephone corner
・Restaurant (Japanese style) ・Delivery Service ・Massage service ・Laundry Service
・FAX, photocopy available ・Cloak Service



Pants Press

DVD player

Hair dryer
There is also in all
guest room.

Weight scale

disposable toothbrush

Glass

Iron



All toilet bidet
equipped

Air Conditioning
(Cooler/Heater)
can adjust the room
temperature
individually

Shiseido's soaps
Shampoo/Conditioner/
Body soap

shoe polisher

Baggage rack

Air freshener spray

Disposable slippers
Equipments・LCD TV ・Refrigerator ・Hair dryer ・BBC ・Telephone ・internet port ・Wi-Fi spot ・tea server(cups) ・kettle ・desk lamp ・Air conditioning

Amenity・Shampoo ・Conditioner ・Body soap ・Tooth brush set (made in Japan) ・Razor ・Face towel ・Bath towe ・Japanese room wear (yukata) ・Slipper(day-use)
*No some facilities offered for Discount plan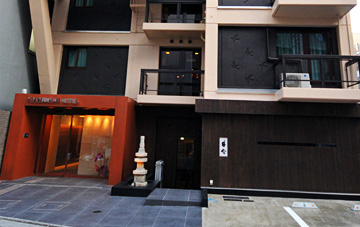 Please be aware of the rules below and thank you for your understanding
and cooperation in advance.
1.Offering a parking space for guests (users)

We are offering this parking space for free so the guests can park their car but not to take in charge of the car.

2.free of all liability and responsibility

We are free of all liability and responsibility for the ones below.

(1)any accident or fight between the users at the parking lot
(2) car being stolen, ruined or damaged
(3)theft or loss of your items in the car
(4)jammed due to other cars that are parking
(5) damage due to inevitable accidents like natural disasters, force majeure
(6) any damage due to violating the parking-lot using policy

Capacity: 2 (no truck, no mini-bus)
Place: Building site
Fee: Free
Parking hour: check-in to check-out (15:00~11:00)
(*If you want to park in other time, please discuss with the staff)

Other parking places
① Coin parking lot
10min: 100yen/hr: 100yen (24:00 to 8:00)

② Parking lot in front of Ueno station (24hrs)
We have partnership with this parking lot so we can let you use this parking lot for the discounted
price(must make reservation in advance through our hotel)
If reserved: 3,000yen/night (2,000yen/night from the 2nd night)
No reservation: 30min:250yen
*car size limitation (Height under 2m)
*About 5 minutes away by walk from the hotel